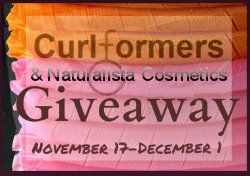 I've joined Untrained Hair Mom for a giveaway of 3 Curlformers Styling Kit of Choice and an 8 oz Juicy Leave In Conditioner from Naturalista Cosmetics packages! Curlformers give flawless curls without the heat damage. They come in several different lengths and sizes, check out the various kits they have available.
Giveaway!!!
How to Enter:
>>Visit the blogs listed below
>>In each post or fan page you will discover a letter
>>Gather each letter and combine them to spell out a phrase
>>Enter the phrase on the giveaway entry form HERE
The secret phrase that is the mandatory entry into the giveaway! This giveaway is open to US residents and will run from Nov 17-Dec 1. Good luck!
Go "hunting" to find the letters that will fill in these blanks:
_ _ _ _ _     _ _ _ _
Our letter (letter #5) is:

S

'); // ]]>